Trucking news and briefs for Monday, July 18, 2022:
Calif. Congressmembers urge Newsom to repeal AB 5
Rep. Michelle Steel (R-California) led 10 members of the California Congressional Delegation in sending a letter last week to California Gov. Gavin Newsom urging him to take immediate action to prevent AB 5 from "devastating the California trucking industry and further crippling nationwide supply chains."
The lawmakers noted the recent Supreme Court denial of a rehearing of the California Trucking Association's case against the AB 5 law's application to trucking, noting that "leaves a reported 70,000 independent truckers with serious doubts about whether they can continue to operate inside our state. This creates a legal mess made by the state of California. AB 5 continues to restrict the ability of Californians to work as independent contractors."
The group added that AB 5 will have a negative effect on the supply chain and will lead to many independent contractors leaving the state. "Without enough truckers, cargo will continue to sit at the ports waiting to be delivered," the group said. "We must allow for truckers in California to work as independent contractors."
The lawmakers sent the letter after the U.S. Supreme Court declined to take up the California Trucking Association's case against the law. The law's application to trucking had been stayed pending appeal, but will now go into effect, potentially shrinking the number of owner-operators, further worsening the backlogs at the ports of Los Angeles and Long Beach, and exacerbating the supply chain crisis, the group added.
Members of Congress joining Steel in sending the letter included Reps. Kevin McCarthy, Darrell Issa, Ken Calvert, Young Kim, Tom McClintock, Mike Garcia, Connie Conway, David Valadao, Doug LaMalfa and Jay Obernolte.
[Related: Owner-operator protests over AB 5 at California ports]
Autocar trucks added to widespread steering gear recall
Autocar is recalling approximately 601 model year 2022-23 Legend, Xpeditor and Xspotter trucks equipped with R.H. Sheppard steering gears that were recalled last month, according to National Highway Traffic Safety Administration documents.
The steering gears may have been assembled incorrectly, which can cause the gear to fracture.
The remedy is currently under development.  Owner notification letters are expected to be mailed on Aug. 29. Owners can contact Autocar's customer service at 765-489-5499 with recall number ACX-2204 DC-2202. NHTSA's recall number is 22V-475.
Several other truck OEMs have issued recalls based on the Sheppard recall, including Daimler, Volvo, Mack and Navistar.
New capabilities for remote reefer monitoring
The Carrier Transicold manufacturer has rolled out new capabilities for its digital platform, now rebranded as Lynx Fleet, giving North American refrigerated trucking operations comprehensive monitoring capabilities for refrigerated trucks and trailers.
The new Lynx Fleet updates the prior web-based application with an at-a-glance view of refrigerated truck and trailer performance parameters. These visual indicators help fleet managers easily monitor transport refrigeration equipment utilization, improve operational efficiencies and maximize uptime by spotting and averting potential equipment issues.
Formerly called eSolutions, Lynx Fleet for North America's refrigerated trucks and trailers is part of the company's Lynx global ecosystem, applying advanced internet of things (IoT) analytics, machine learning and various technologies to connect the cold chain in the cloud, automate key processes and deliver real-time visibility and insights throughout any cargo's journey. 
Prioritized based on customer input, the initial rollout provides key insights into fuel level in the refrigeration unit, battery voltage issues to avoid an emergency road-service call, alerts to critical alarm condition that will cause a refrigeration unit to shut down, and door metrics to assist in understanding the number of times cargo doors are opened over a period of time to help manage fuel costs and temperature-control issues. Comprehensive calculation of asset run hours, too, will help fleets balance usage and manage maintenance based on engine run hours and other factors.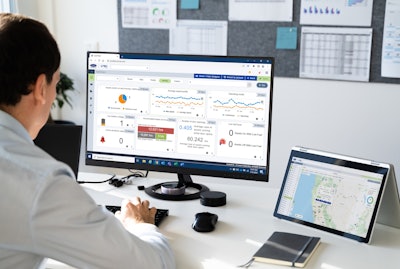 Lynx Fleet data can be shared with most major transportation management systems (TMS). For fleets with custom data platforms, Carrier Transicold offers growing API (application programming interface) capabilities that facilitate the integration and display of data collected by Lynx Fleet.
ATA launches new program to address issues facing women in trucking
Last week, The American Trucking Associations announced it is launching Women in Motion, a new program designed to elevate and highlight the contributions of women to the trucking industry, encourage more women to consider a career in trucking, and address important issues within the policy arena that specifically impact women.
Said ATA President and CEO Chris Spear, "The name Women in Motion is an apt description of our industry, and I'm pleased that ATA is recognizing these individuals who are critical to our industry and looking for solutions to make their jobs even more gratifying and more secure."
The Women in Motion program will focus on the core issues women face on the road and in the industry. Working with coalition partners, policymakers and business leaders, Women in Motion will work to provide a more secure work environment for women in the industry, including advocating for issues like safer truck parking, as well as increased diversity in trucking.
The program will also provide support and development opportunities for women in the trucking industry, as well as promoting the industry as a career path to women across the country.