Griffin Bike Park manager Rich Moore introduced the community to three new bike trails Saturday, including one that even he finds daunting.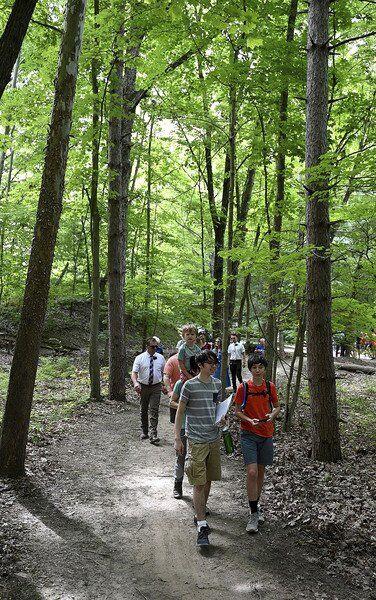 Indiana's Lt. Governor Suzanne Crouch and the Department of Natural Resources' Dale Briles were on hand Saturday morning at Fowler Park's Shelter A for the ribbon-cutting for the Heroes Trail, which connects the Fowler and Griffin parks. Ribbon cuttings for Recon Trail and Over-N-Out Trail followed later in the day, opening two new black-diamond trails recommended only for more skilled and rugged bicyclists.
As it connects the two parks, the Heroes Trail is the largest of the new trails. Recon is described by Moore as a flowing, big trail designed by pro biker Tyler McCaul. McCaul came to Indiana a week after participating in the Red Bull Rampage, which features a 70-foot jump off cliffs in Utah.
He said McCaul's trail is "an absolute blast."
But even Moore admitted that the Over-N-Out Trail can be disconcerting. Satcom, a bridge made from telephone poles that stands six feet off the ground with a several-foot drop, concludes Over-N-Out.
Moore rarely finds anything bicycle-related intimidating, but, he conceded, "This one scares me."
In the middle of Over-N-Out is a section called Lineman, featuring 1,200 feet of halved telephone poles on the trail and features a double teeter-totter, a reverse shark fin with a four-foot drop. A sculpture, also called "Lineman," hangs high at the beginning of this section of the trail; both were designed by Jeremy Stakeman in honor of his late father Rudy, who fought as a Marine in World War II.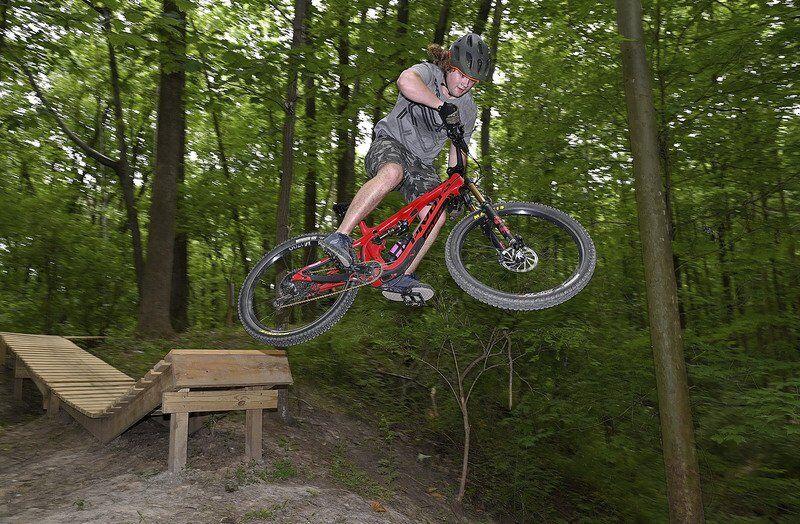 Over-N-Out, which was originally named Fubar but the connotation eventually ruled that moniker out, is what's known as a "skinny" trail, meaning it can be as narrow as one foot wide at points. At two miles long, Moore has been told it's the longest skinny trail in the country. Over-N-Out and Recon Trail join Catch-22 as the park's most challenging to maneuver technically.
"People say it's easily going to be the favorite trail," Moore reported of Over-N-Out. Together, the three trails "complete our park," he added. "We have everything now."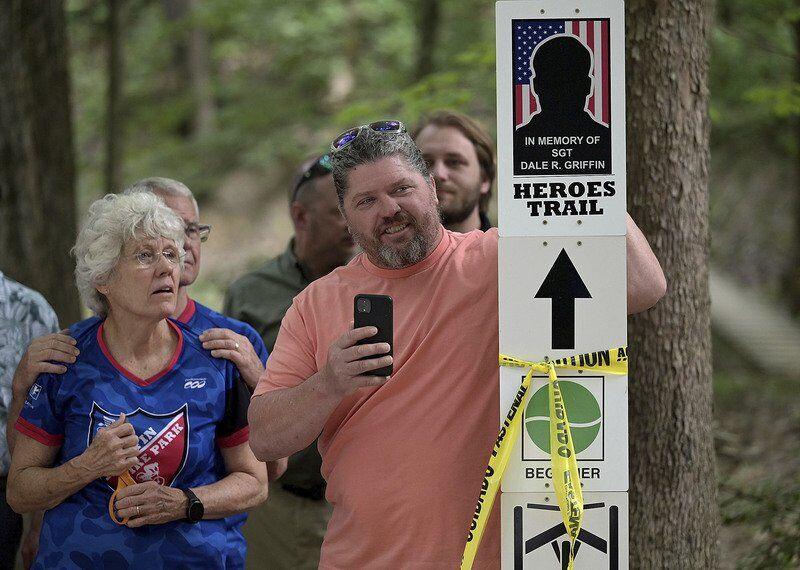 Nonetheless, three more trails are forthcoming: Buffalo, an intermediate trail, Foxtrot, a Black Diamond trail albeit a bit lower on the rating scale, and Lake Trail, which will circle the park's Stryker Lake.
Moore, who suffered a heart attack recently, is eagerly anticipating the moment he's cleared to ride again and take another pass on Recon and — who knows? — maybe try to tackle Over-N-Out again.
The new trails took nine months to establish, from money from the Shepherds of Griffin Bike Park and a Next Level Trails grant. Next Level Trails plans to invest $150 million – the largest infusion of trail funding in Indiana history – toward the development of regionally and locally significant trails throughout the state.
David Kronke can be reached at 812-231-4232 or at [email protected].