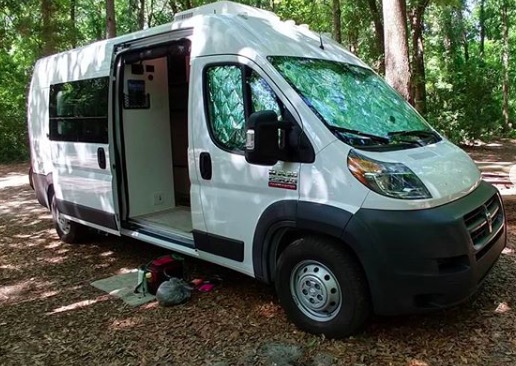 If you don't have the time to convert a van into a full on recreational vehicle but you do have the funds to buy one road ready you might want to take a close look at this video. Zach of Vanlife Outfitters is one of a growing number of specialists who trick out vans for profit. The following conversion of a 2017 Dodge Ram Promaster 2500 (159″ wheel base, high roof) took place between November 2018 and January of 2019 (fairly quick turnaround). Food for thought for those who want to take the #vanlife plunge but don't want to get their hands dirty (MORE INFO HERE):
Miles Van Camper is an elegant van camper built on a 2017 RAM Promaster (2500, 159″ wheel base, high roof, gasoline). This is the builder's second Promaster conversion and while it uses the same floor plan, there are improvements and tweaks made after learning what works and what doesn't.
Miles 2 has everything you would want in an adventure van and features many conveniences that the majority of van builds do not, including a full wet bath/shower, air conditioner, high capacity fresh and grey water tanks, on-demand hot water heater, a spacious refrigerator and freezer and more. Only high-quality materials were used. Check out all the materials he used for the build here.
"I developed the unique floor plan after years of research and experience with other many other van campers. The layout effectively creates two separate living spaces in a small van footprint. In addition to the primary living space and galley located directly behind the cab, there is a bed/loft area in the rear that features a standard full-size memory foam bed, two windows and a powerful Maxxfan vent fan directly overhead. Since the bed is "fixed" you don't have to make the it every day or store the bedding during the days. It's very nice to be able jump into a comfortable bed whenever you want while someone else occupies the front living space or galley."
ELECTRICAL
2x 200 amp hour Renogy AGM batteries for a total of 400 amp hours of capacity.
2x 100 watt Renogy solar panels on the roof with a 30 amp MPPT solar controller.
2000 watt Aims Power inverter/charger that automatically switches 110 volt AC loads from inverter to shore power when available with remote control panel and charges the batteries when connected to shore power.
30 amp shore power inlet with 30amp to 15amp adapter when 30 amp service is not available.
Progressive Dynamics load center with 5x 110 volt AC circuit breakers and 12x, 12 volt DC fused circuits.
Three distinct charging methods to keep the batteries charged up: from vehicle alternator when driving (via a Blue Sea ACR), from the inverter/charger when connected to shore power and from the solar panels during daylight hours.
Victron battery monitor shows state of charge, voltage, charge/discharge rate in amps and watts and estimated battery life in hours.
110 volt AC, 12 volt DC and USB charging connections in various places throughout the living space to power everything you need.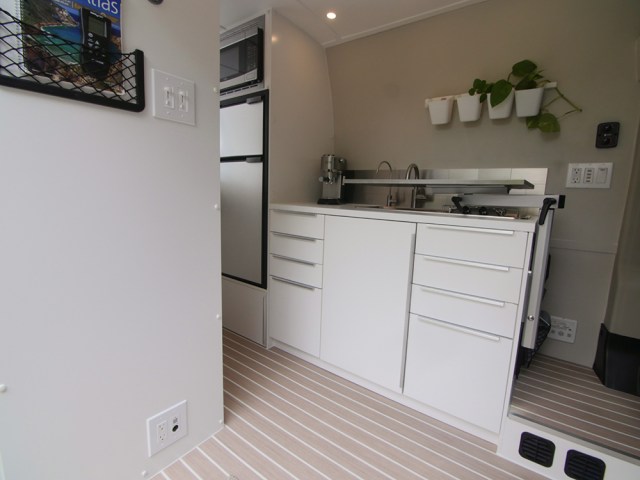 GALLEY
Stainless-steel, two-burner propane stove and sink.
Tons of storage and ample counter space with deep 24″ drawers.
Vitrifrigo refrigerator (5.3 cubic feet) with separate freezer compartment (1 cubic foot).
DeLonghi  espresso maker (runs perfectly off inverter).
Stainless steel flush-mounted microwave (1 cubic feet).
Elegant and durable brushed aluminum backsplash.
Swiss-made Lagun table system with stainless steel surface swivels over the galley when not in use or can be positioned as an extra work surface for the galley or working/eating surface with the swiveled cab seats.
Integrated paper towel dispenser, trash and recycling bins and intelligent storage.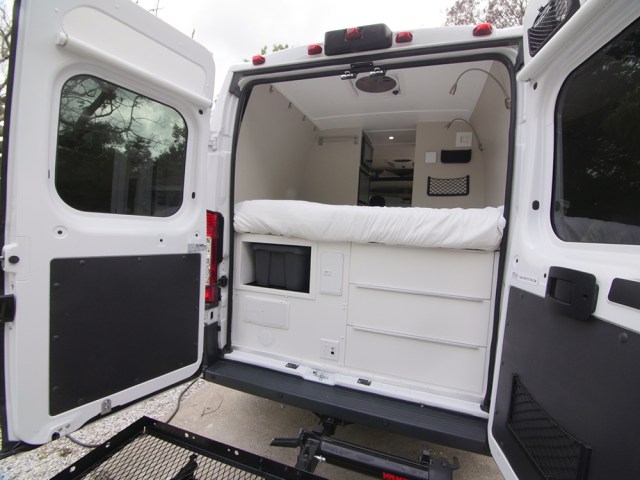 COMFORT / SAFETY / CONVENIENCE
Coleman Mach 8 Cub 9200 BTU rooftop air conditioner. This is the lowest profile unit on the market, and only consumes approximately 11.5 amps making it easy to operate off a standard 15 amp outlet/service (no need for 30 amp service). This unit will run off the battery bank/inverter but not for long!
Battery-efficient, Propex HS2800, 9700 BTU propane-powered, externally vented furnace.
10-speed Maxxfan vent fan can pull air into the living space or exhaust air out and features an rain hood so you can operate the fan in any weather, remote control and adjustable thermostatic control.
Combination propane gas and carbon monoxide detector.
Fixed full size memory foam bed in loft area
Isotemp SPA 20L marine-style, 5.3 gallon water heater that heats water while you drive with the engine's coolant. It's very well insulated and keeps the water at temperature for a long time. When you're not driving, it has a 750 watt electric heating element that runs off the inverter and is controlled by a switch in the galley. The water is heated to up to 190 degrees in the tank and then mixed with cold water to a specified temperature when leaving the tank. This extends the 5.3 gallon capacity significantly and speeds up recovery time.
Thetford "cassette-style" toilet in wet bath provides odor free convenience without the need for a black water tank. Cassette empties easily into a standard toilet, campsite sewer connection, etc.
Comfortable, clean shower with flexible shower head with integrated soap and shampoo dispensers and mirror.
Extensive LED lighting with dimmers.
Extensive noise dampening (Noico) and insulation (3M Thinsulate) for quiet ride and to keep the van cool or warm in any climate.
Easy-to-use and clean roller shades provide privacy and light control while virtually disappearing when not in use.
Insulated privacy shades for windshield and driver/passenger cab windows deploy and store easily with suction cups and provide comfort and privacy.
UTILITIES
33 gallon fresh water tank with gravity drain underneath driver's side bumper.
30 grey holding tank with standard 3″ connection – mounted underneath passenger side sliding door.
Lockable fresh water fill and city water inlet on drivers side.
Fresh water tank and all plumbing installed inside the vehicle to protect from damage and freezing for all-season camping.
5.9 gallon propane tank mounted underneath vehicle in front of the rear axle with remote fill on the driver's side.
SeeLevel 2 tank monitor provides easy-to-read tank capacity information for fresh water, grey water and propane tank. Monitor also allows turning on/off the water pump.
Curt class 3 hitch with 2″ receiver (6000 lb tow capacity, 600 lb tongue weight) and standard t-connector for trailer.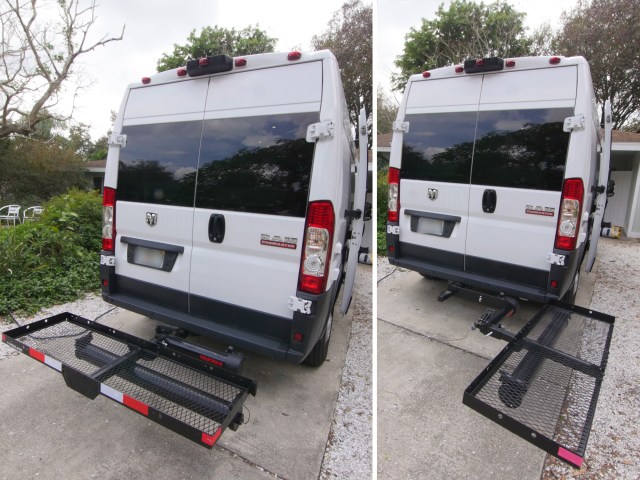 images from vanlifeoutfitters.com