REV'IT! Tracer Air 2 Overshirt Hands-On Review
Review Summary
A lightweight, ventilated overshirt for warm to hot weather riding in low-speed situations. The Tracer Air 2 nicely blends the functionality of a mesh jacket with the convenience and ease of use of an overshirt.
Pros
Stealth look – genuinely lifecycle focused
Aesthetics is a personal thing, but I think the Tracer Air 2 is cool-looking
Very comfortable, on or off the bike
Build quality is very good
Exceptional ventilation
Cons
Only CE Level 1 Armor in elbows and shoulders
No back protector
REV'IT! Tracer Air 2 Overshirt Gallery
I have long admired REV'IT!'s ability to combine a high degree of technical specification with modern style – clean, slim lines and a look that works just as well off the bike as it does on. That ability shines through in the latest iteration (version 2.0) of the company's Tracer Air 2 Overshirt.
I recently reviewed REV'IT!'s Component Jacket, the pinnacle of their DIRT Series of modular off-road gear that also translates well to urban settings, and was thrilled to have an opportunity to test a quite different offering – the Tracer Air 2 Overshirt. I wanted to see if the company's reputation for building gear that is as functional as it is stylish crossed over into the overshirt category, a segment of the market that has expanded considerably over the past few years. I was also curious as to whether REV'IT!'s reputation for durability, technology and fit was evident in the Tracer Air 2.
REV'IT! Tracer Air 2 Overshirt Comfort & Fit
The overshirt or riding shirt has become an especially popular item of motorcycle clothing and it's easy to see why. When temperatures rise during Spring and Summer a full-on armored motorcycle jacket is just too hot. Enter the overshirt. It offers much better protection than a t-shirt – the go-to option for too many riders in hot weather – as well as a style that doesn't scream "motorcycle".
The first thing I noticed after taking the Tracer Air 2 out of its package was how good it feels to the touch. No stiffness or clumpiness here; it has what my dad used to call "hand feel" when assessing a suit or leather jacket. It also feels simultaneously light and strong. Chalk that up to the PWR I Shell Mesh and cordura ripstop that makes up the outer shell material.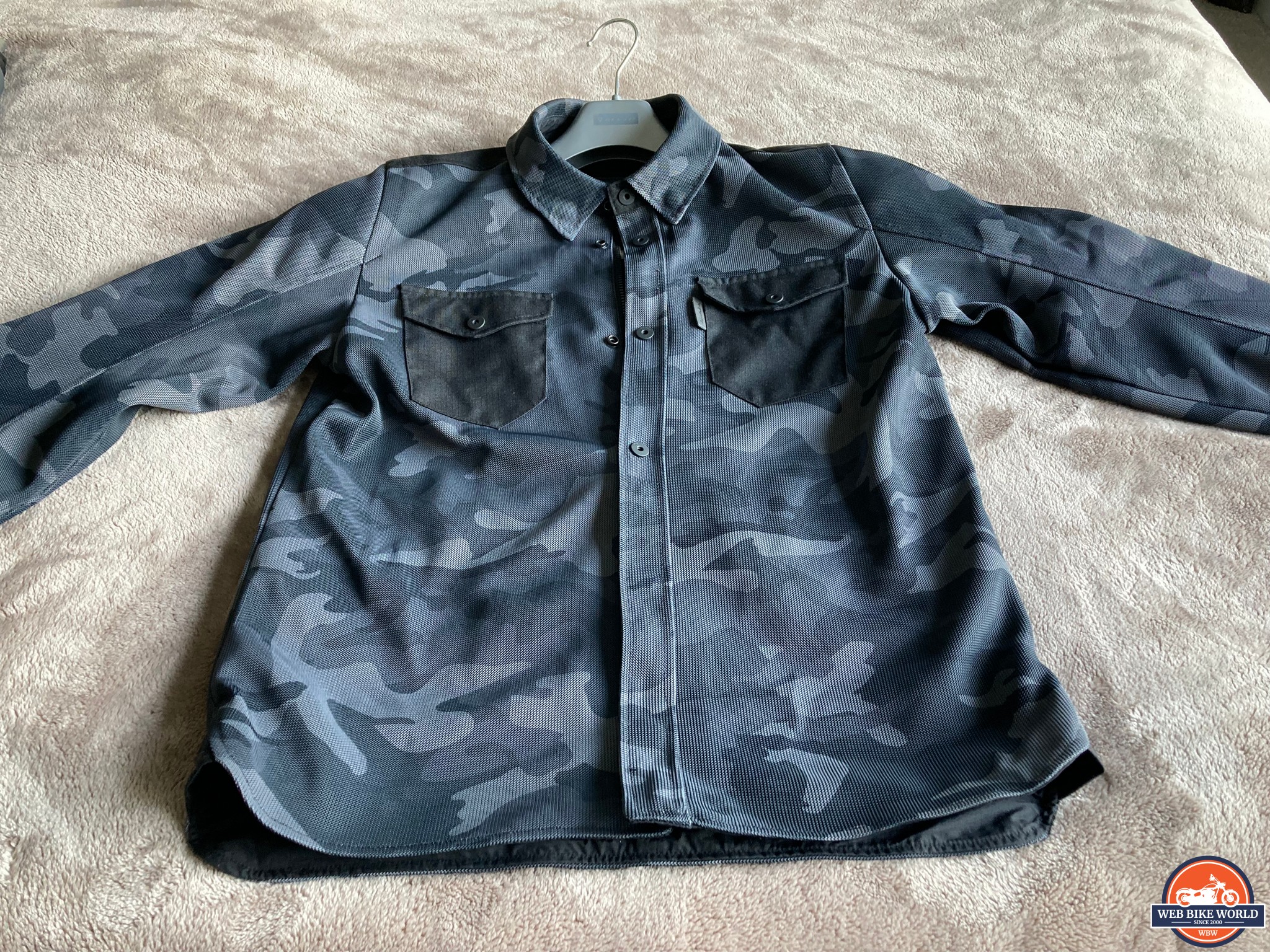 There's a lovely feel and drape to the Tracer Air 2 – it oozes comfort and dare I say, an unmistakable style
PWR Yarn is a 100% nylon thread with a unique internal bond structure that provides excellent durability, high tensile and breaking strength, and very good abrasion resistance. The strength comes from its unique structure – a 3-wired yarn with an extra 4th wire spun into it. This 4th wire is heated to bond with the other 3 threads, so it will theoretically never unravel or split open, especially at the seams.
On the Tracer Air 2, the PWR I Shell is knitted in an open structure to ensure that air flows directly to the body. This maximizes breathability and flexibility, as well as enhancing comfort as well as safety. Nice.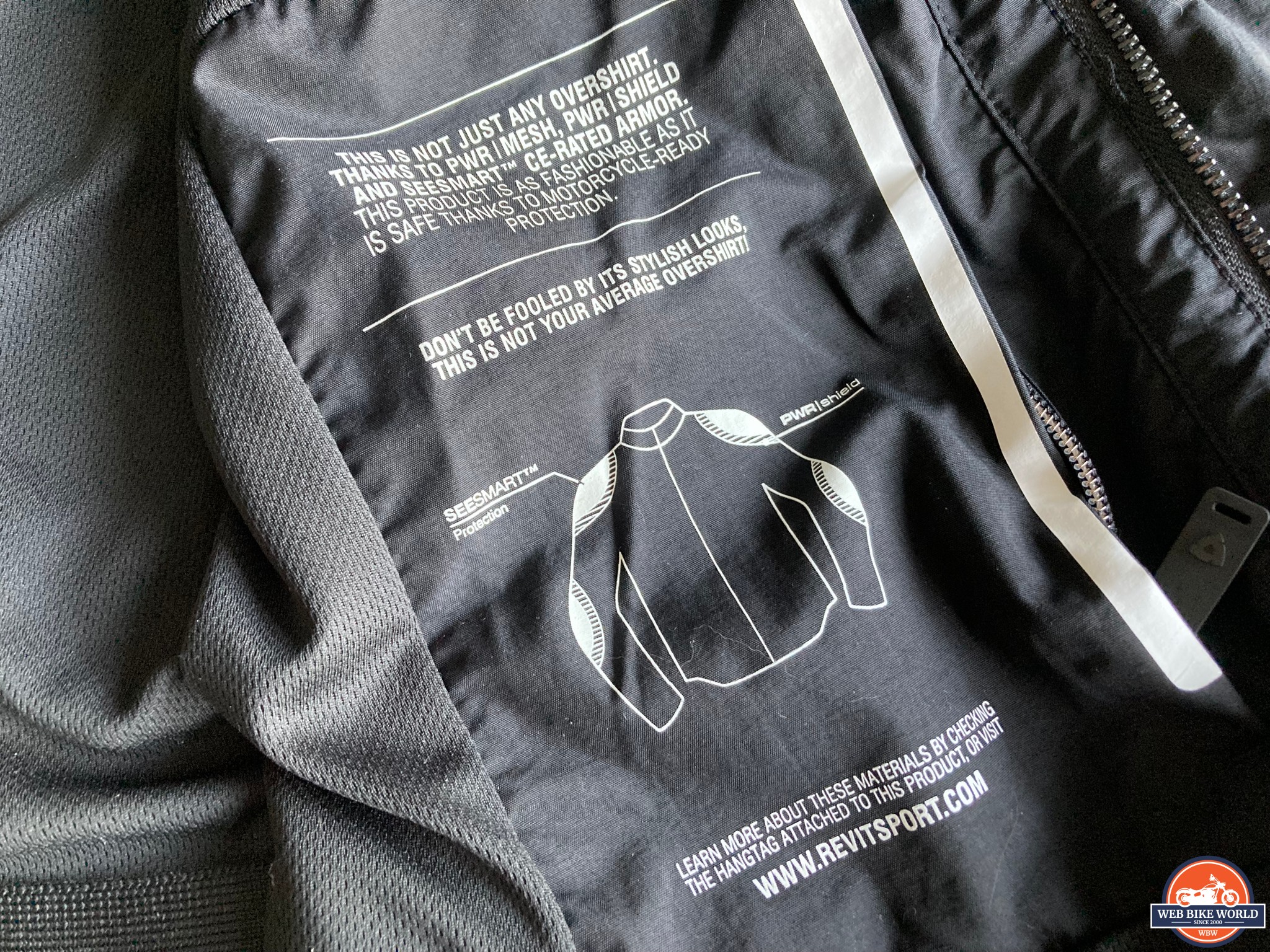 It may be advertising copy, but it rings true – the Tracer Air 2 is not your usual riding overshirt
Putting the Tracer Air 2 on, I was immediately struck by how comfortable it is; worn over a t-shirt, the lining feels great against the skin and doesn't impede airflow too much (a criticism, for some, of the first generation of this overshirt).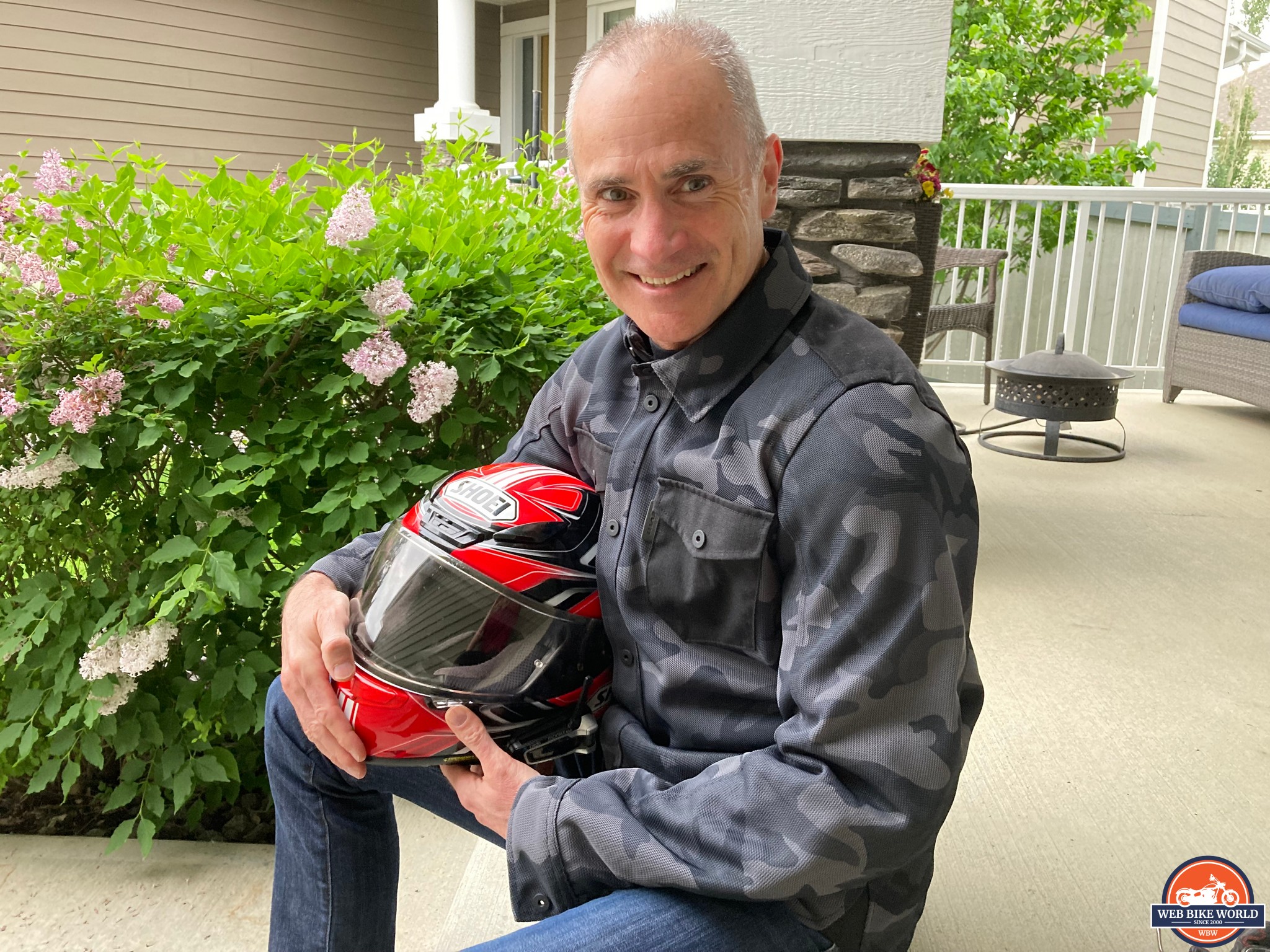 The Tracer Air 2 is very easy to live with – super comfortable, feels good against the body and moves with you
The lightness of the overshirt also stands out; this feels like a fashion garment that you could easily wear all day – it does not feel like a motorcycle jacket. And that, ultimately, is the point. This is stealth protective gear. I typically wear a size medium in REV'IT! and that holds true here – it fits true to size, albeit with a slight nod to a slimmer profile.
REV'IT! Tracer Air 2 Overshirt Construction
Before I dive into the construction and build quality of the Tracer 2 Air, it's important to put the overshirt into context. This is not intended to compete with a fully kitted out motorcycle jacket. Further, it is not the garment you should reach for if you are heading out for an all-day (or longer) ride that includes long stretches at highway speed.
With the mesh construction, you shouldn't choose this if rain is in the forecast. Instead, think of the Tracer Air 2 as a very specific tool that you use for certain types of riding and nothing more. A morning "latte run", for instance. Or a summer afternoon ride to your favourite burger joint. Shorter rides at lower speeds in warm to hot temperatures. Given my experience with the Tracer Air 2, if you use it for these (or similar) applications, I think you'll love it and my comments on construction will make sense.
In many respects, only a company like REV'IT! could construct something like the Tracer Air 2. The company already has a solid line-up of non-ventilated overshirts (the worker overshirt, the Tracer Riding Shirt, and even the Bison 2 H2O shirt), as well as some great options for mesh jackets (the Eclipse is a great value option, and the Cayenne Pro is perhaps the best ventilated ADV jacket you could also wear to the office).
So, it should come as no surprise that the Tracer Air 2 combines minimal, even classic style lines with very well thought-out motorcycle specific design. A button up front placket conceals a full front zipper, and the two bottom buttons are concealed to prevent scratches to your tank. Buttons on the collar keep it from flapping in the wind while at speed.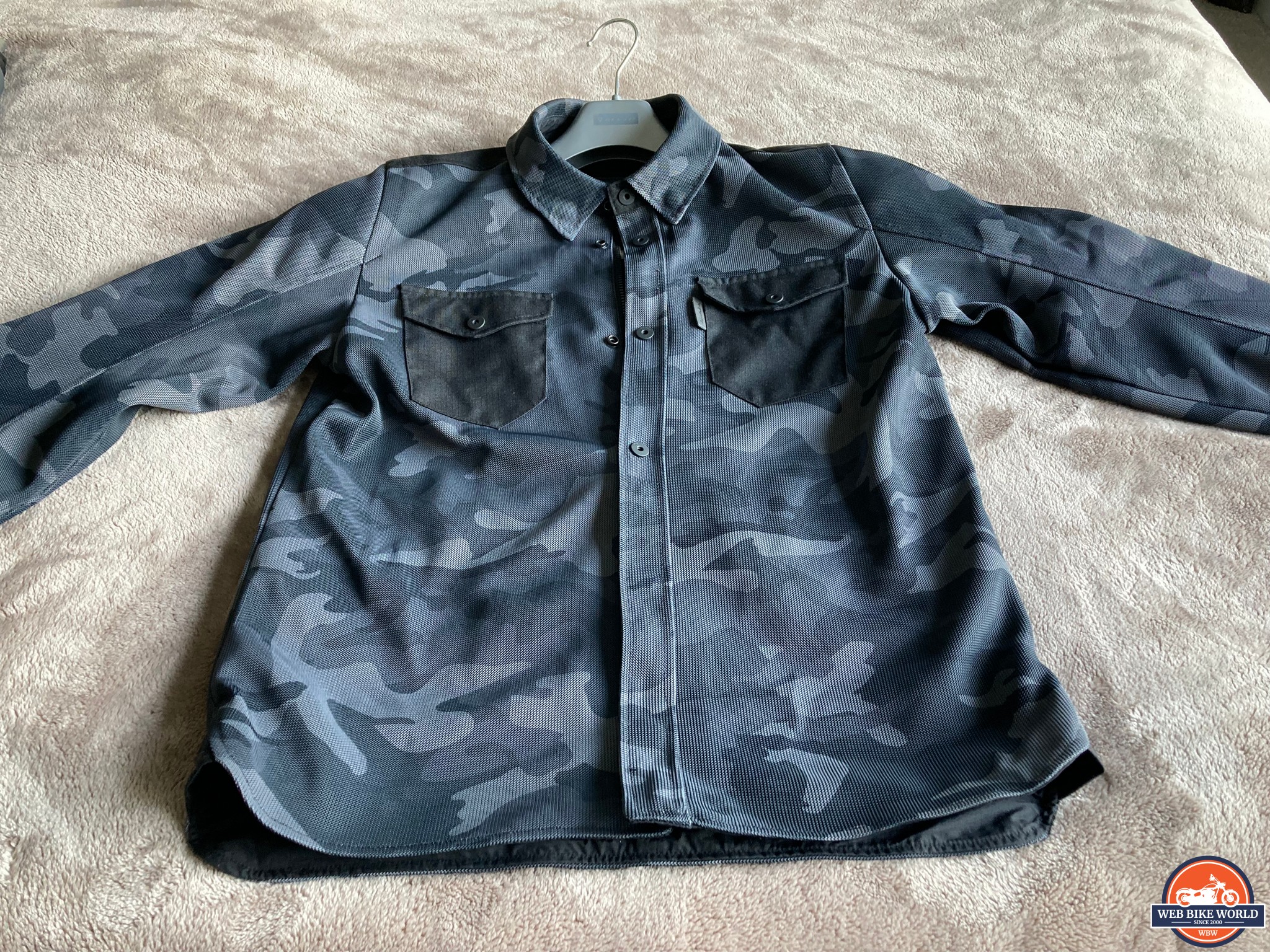 Note how the bottom 2 buttons are concealed beneath the placket to avoid scratches to the tank as you move and get into position on the bike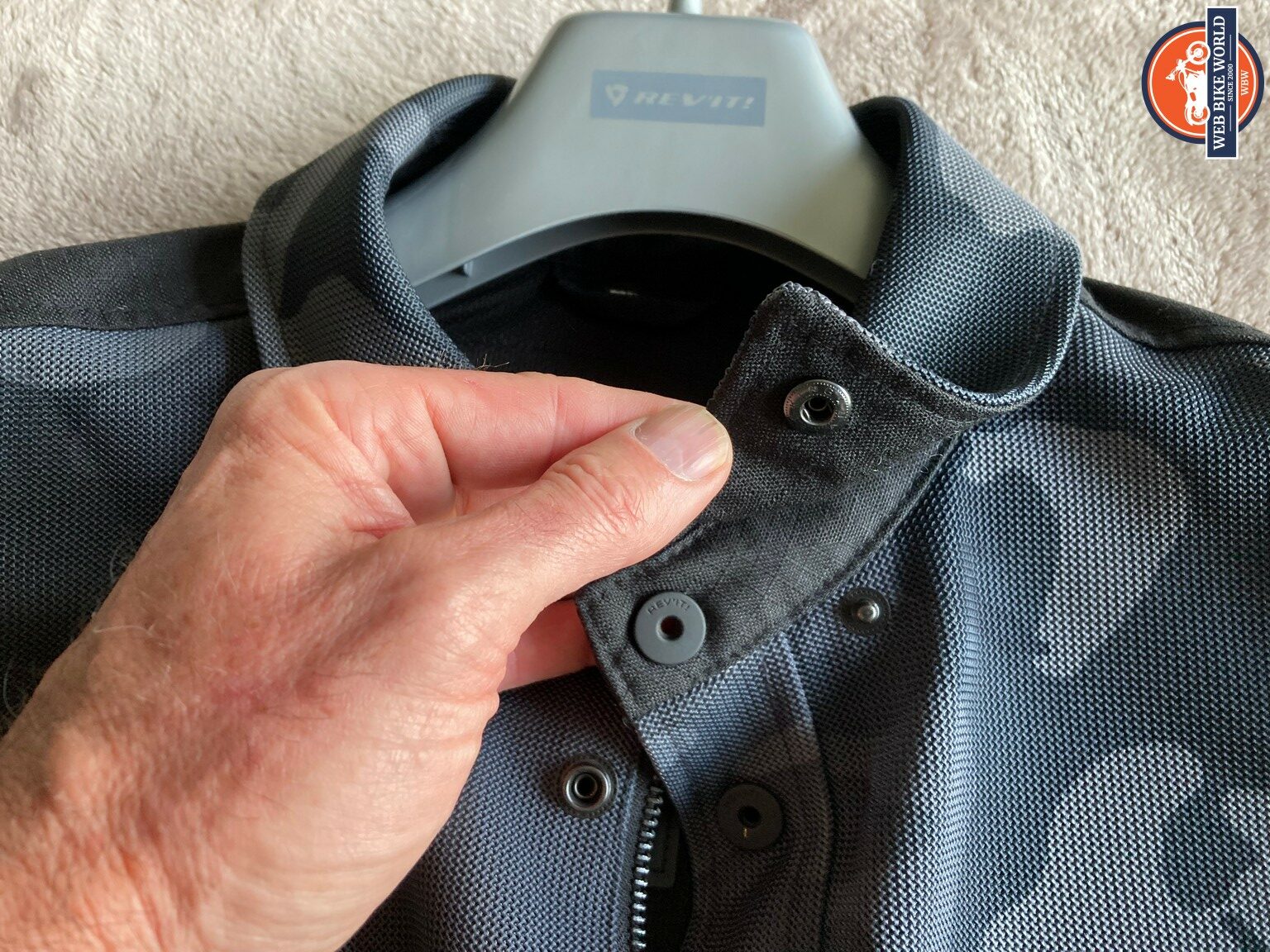 A thoughtful touch – snapdown buttons that keep the collar from flapping against your helmet!
One of the quickest ways to tell if a motorcycle garment is well-constructed is to look at the stitching, especially on the seams. The stitching is what enables the abrasion resistance we need in the event of a spill. Here, REV'IT!'s history in ADV and sport touring comes to the fore. REV'IT! uses triple needle stitching and safety seams on the Tracer Air 2 in all areas at increased risk of impact.
Safety seams have a visible as well as an invisible seam. This construction keeps the material of the outer shell together, even if the visible seam is torn. And speaking of tears, the PWR Shield fabric used in the Tracer Air 2 has exceptional cut, tear and abrasion resistance levels.
Ergonomic Features:
Fit: REV'IT!'s city fit, slim profile
Adjustability: Adjustment tabs at the waist and cuffs
Ventilation: Fully perforated outer shell
Features: Jeans loop, short connection zipper, triple needle stitching
Pockets: 1 inner pocket, 2 exterior stash pockets
REV'IT! Tracer Air 2 Overshirt Protection
Keeping in mind that an overshirt is not competing with a jacket, per se, the protection scheme on the Tracer Air 2 is good, but not great. There is a double layer of PWR I Shield fabric at the elbows and shoulders, and the shirt ships with CE level 1 Seesmart armor at those same impact points. There is a pocket for an optional Seesoft CE Level 2 RV back protector (sold separately):
Type RV / Size 04 fits SM-MD
Type RV / Size 05 fits LG-2XL
Type RV / Size 06 fits 3XL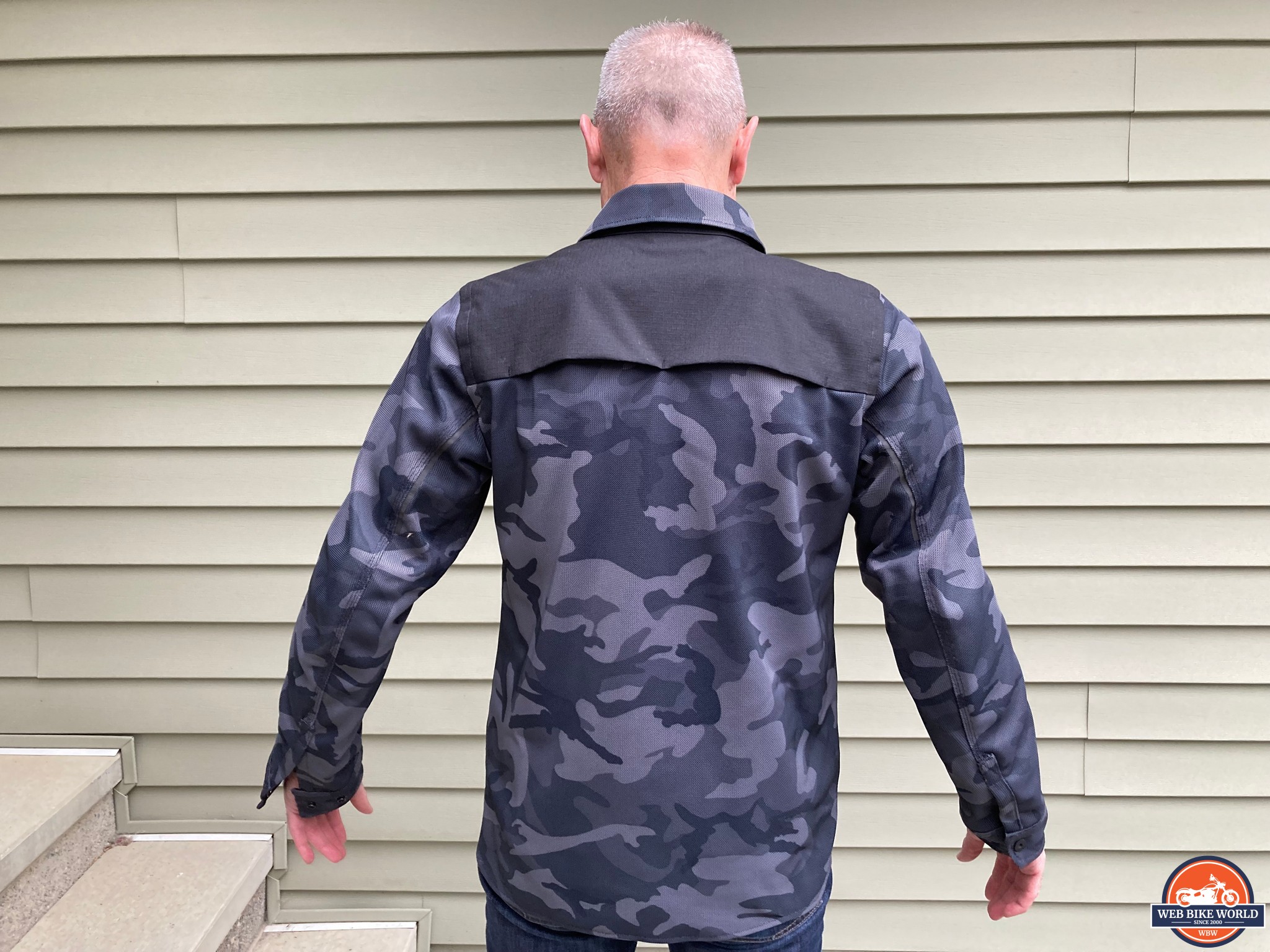 There's a double layer of PWR I Shield fabric across the shoulders of the Tracer Air 2
There are 2 laminated strips on the arms of the shirt that provide enhanced visibility for night riding or in dim light conditions, and a small reflective strip on the rear collar that serves the same purpose. Kudos to REV'IT! for welding these panels to the fabric – this eliminates stitching seams, making the overshirt just a little bit stronger and safer.
My only nitpick here is that the strips are quite small. This is, I'm sure, consistent with the stealth approach to the shirt as a whole, but I'd like to see these strips a little bigger to really capitalize on nighttime visibility.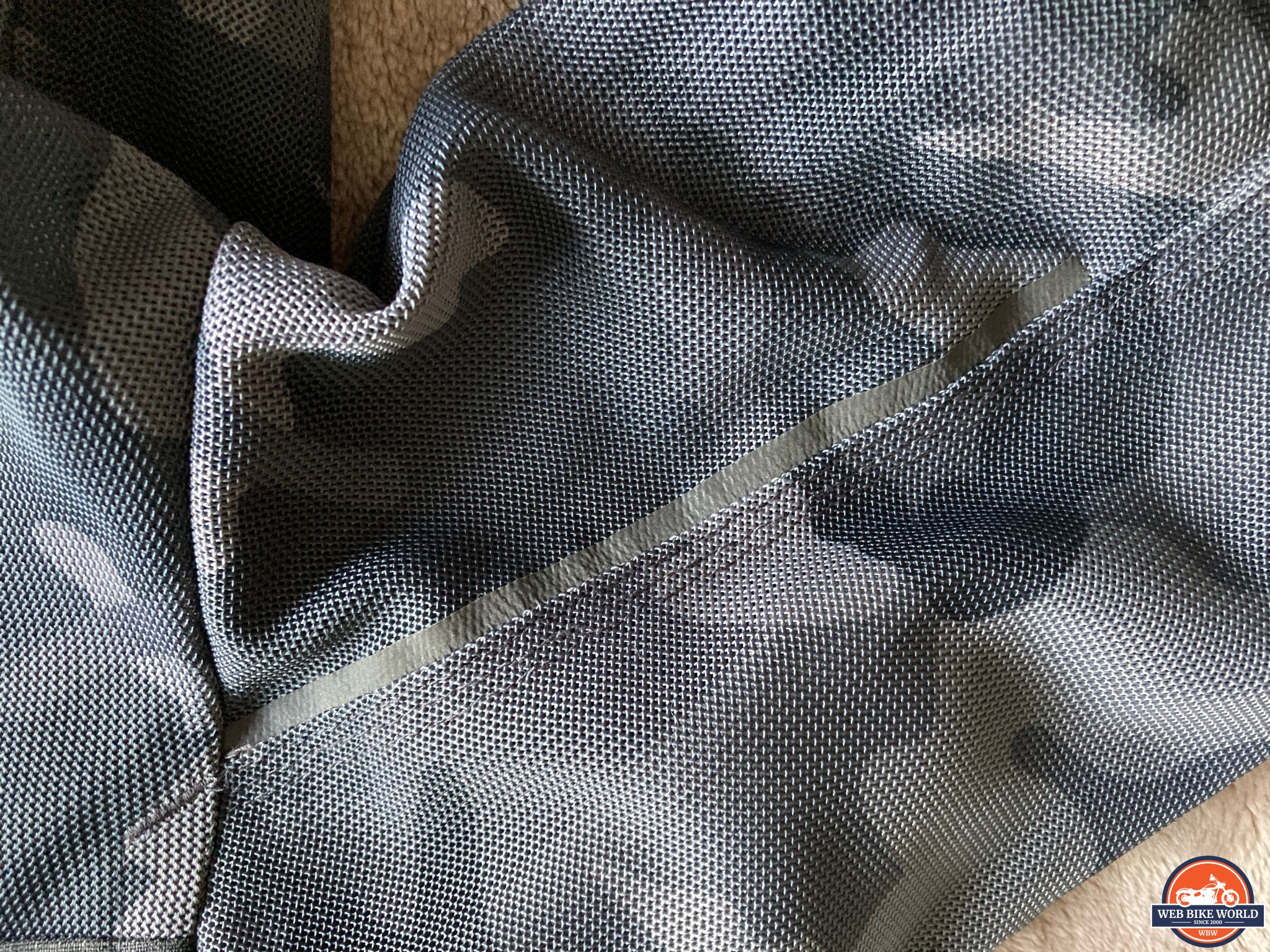 The lamination strips are welded to the shirt – now, if only they were just a little bigger.
So, while I might quibble about no back protector, it is increasingly rare for manufacturers to include that as standard. Equally, the level 1 protectors at the elbows and shoulders are quite basic, but oh so comfortable. And maybe that's the key point; for the ways in which I would use this overshirt, the protection scheme is appropriate.
The Tracer Air 2  is certified to the EN 17092 Standard and has achieved an A rating. For more details about certification click here.
REV'IT! Tracer Air 2 Functionality – On the Bike
On the bike, the Tracer Air 2 works really well – within some specific parameters. It moves with my body, never binds me or hinders me in any way when I'm getting into position. And boy does it breathe! I tend to run a little colder than most, but I still feel the heat on a hot day and I can attest to the ability of the Tracer Air 2 to cool you down. In fact, I quickly took to packing a windproof layer with me, especially if I was going to be out later in the day or at night – the ventilation works that well.
There's a simple two-button adjustment at the cuffs with a very small gusset and it works with my Five Sport City gloves (my preferred option for summer riding), but a zipper would be even better and allow for more glove options.
The Tracer Air 2 has both a short attachment zipper for connecting the overshirt to a pair of REV'IT! pants, as well as two belt loops that can be used to keep pants from riding up. While this is a nod to the motorcycle-specific nature of the overshirt, I never used either option and I don't see the majority of buyers doing so either.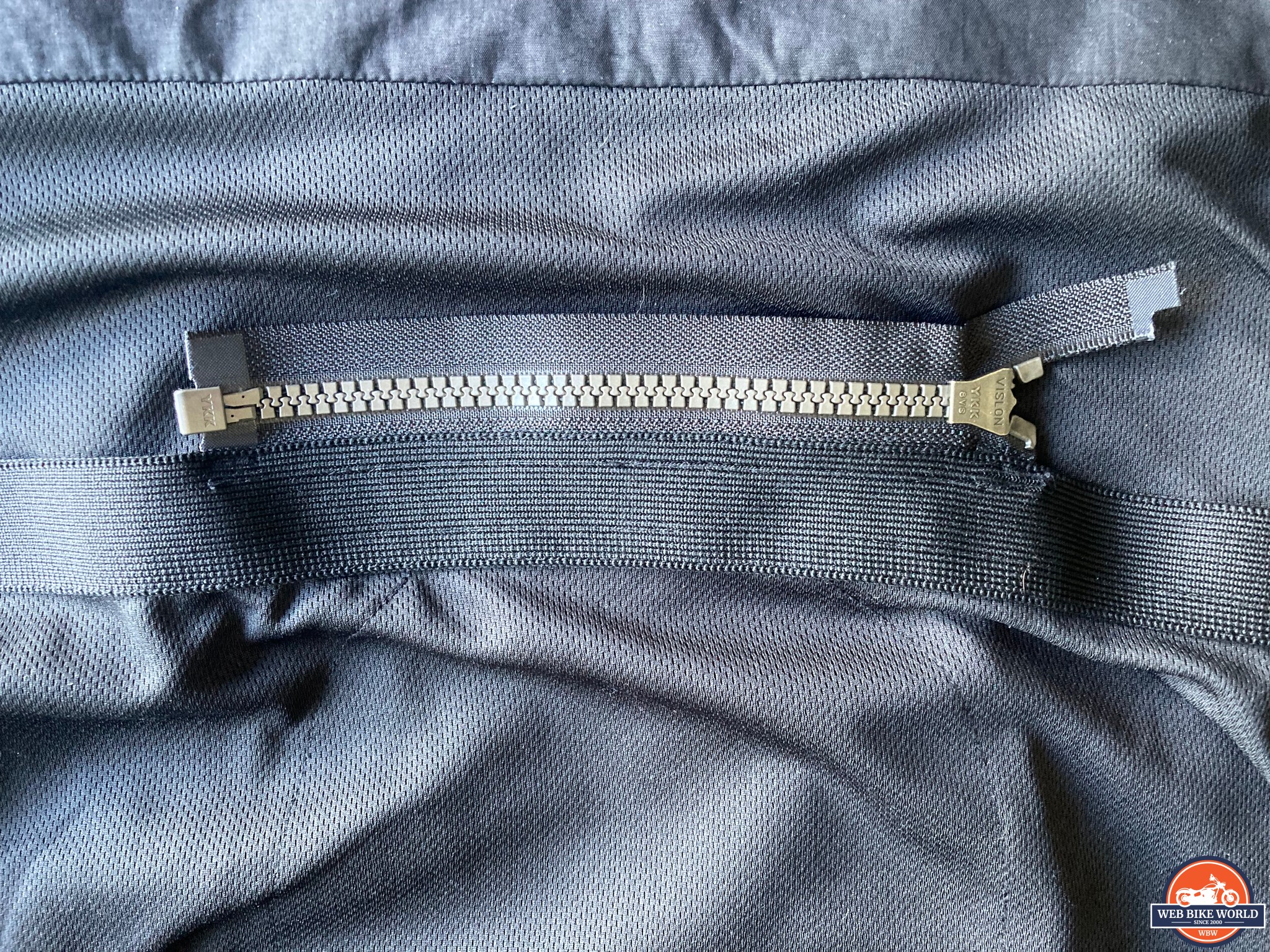 A short connection zipper allows you to connect the Tracer Air 2 to a matching set of REV'IT! pants, or you could use the REV'IT! Safeway 2 Belt to connect the shirt to any pair of pants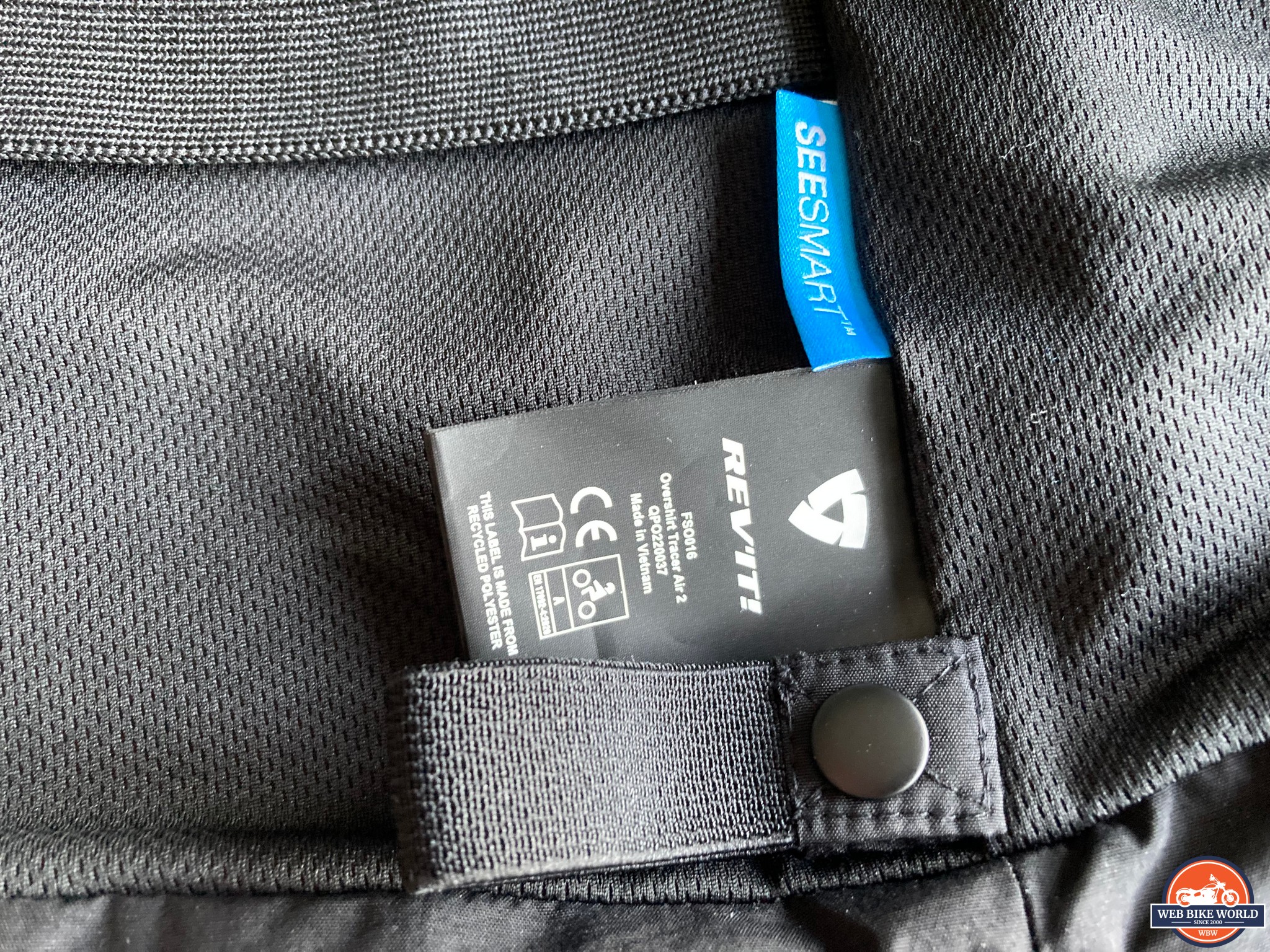 Two belt loops are also part of the Tracer Air 2 package
There are two patch pockets on the front of the shirt and a single zippered inside pocket – again a concession to the "shirt not jacket" nature of the Tracer Air 2. Still, given the small size of these pockets (my iPhone SE isn't that big but it wouldn't fit in any of them), storage options are decidedly limited. Not a big deal for me but others may disagree.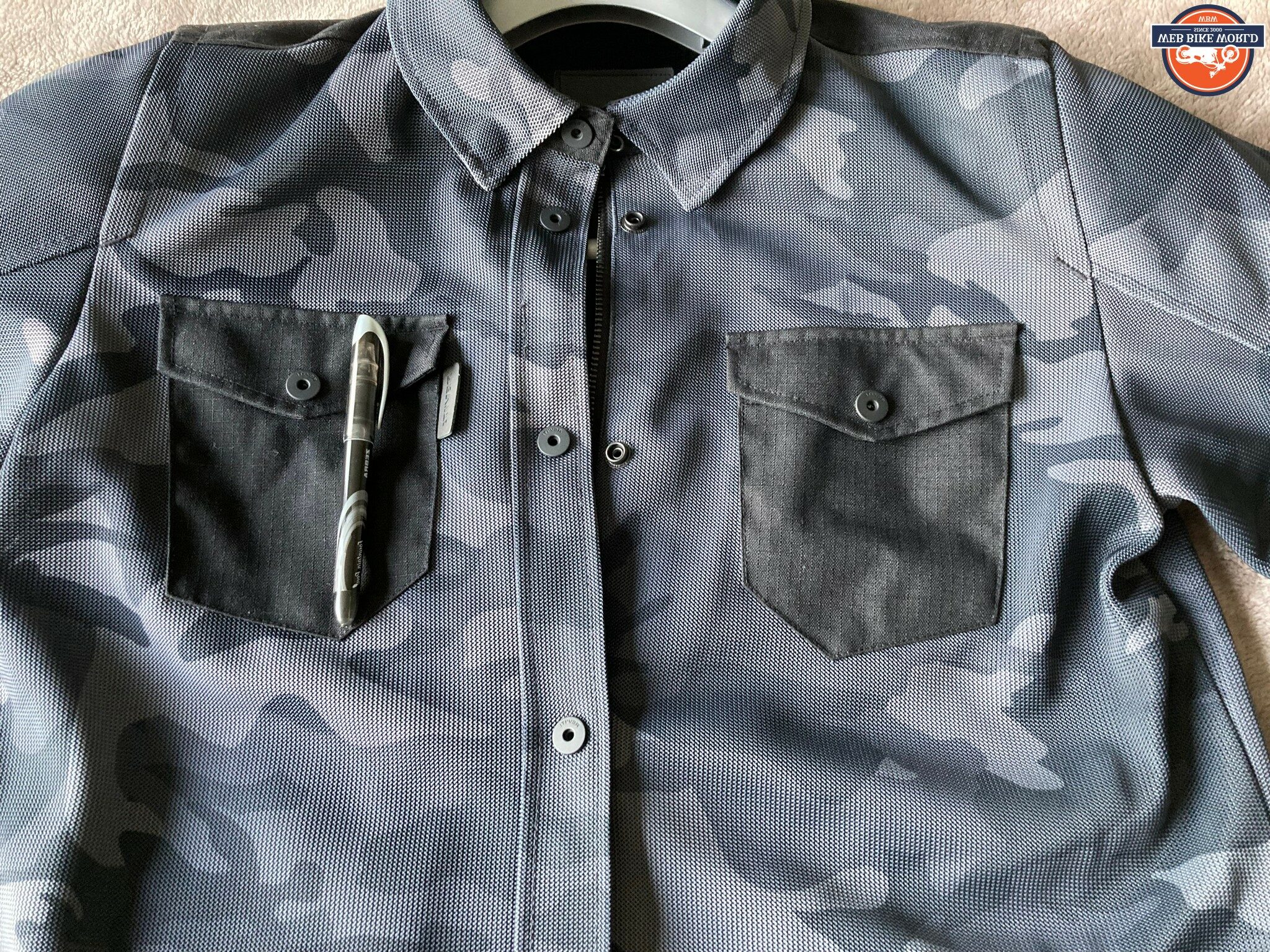 The front patch pockets, which close with a snap, are quite small. Useful for tucking your credit card or driver's licence, but too small for anything bigger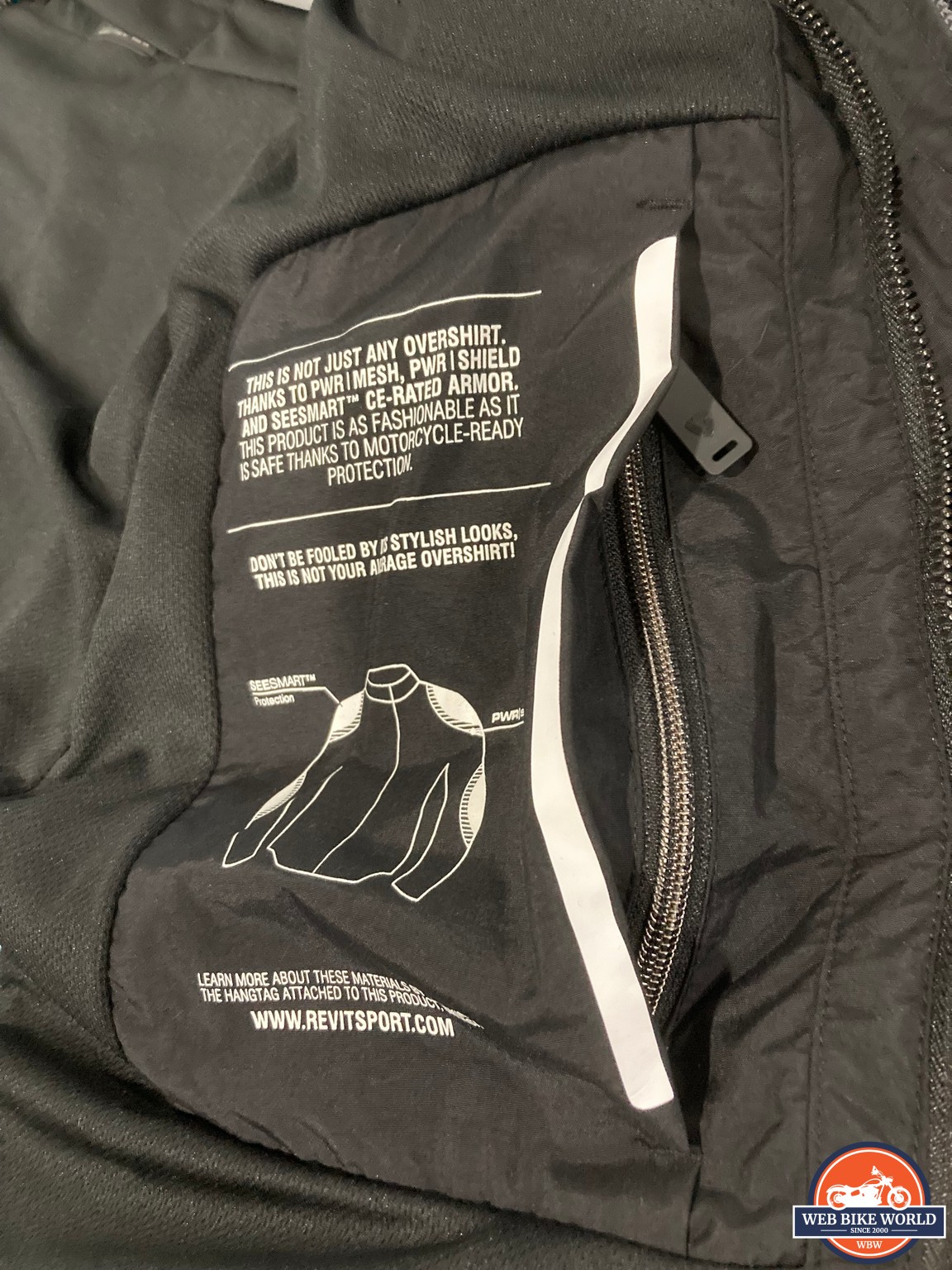 The single interior pocket is similarly small – think billfold, credit card or driver's licence and maybe a small phone
Now, with respect to the "specific parameters" I mentioned above, I used the Tracer Air 2 as a warm-to-hot weather option on short, inner-city rides – rides where I wasn't on the bike too long and was rarely exceeding 30-40 mph.
For longer rides outside of the city where my speed was in the 60-70 mph range I took the liner out of my REV'IT! Trench GTX and opened up the massive front vents. Two different tools for two different kinds of riding.
For the urban rider, the Tracer Air 2 is an awesome hot weather option. It costs $110 more than REV'IT!'s own Eclipse jacket, but I think the refinements justify the cost premium. And it flows considerably more air than other popular overshirts from Belstaff (the Temple and Mansion), John Doe (XTM Moto Shirt), Merlin (Chigwell and Shenstone), or Resurgence (Ultra Riding Shirt). It should also be noted that there is quite a spread in price for these competing overshirts.
The Belstaff options, not surprising, are the priciest at $395 and $450, respectively and neither comes close to the REV'IT! on airflow. I've heard good things about the John Doe moto shirt, and at $250 it's price competitive with the Tracer Air 2, but again, I don't see it being as light, fashionable, and breathable.
The Merlin options come in at $279 and $299 but they are both heavier, "full" mesh jackets. I've added Resurgence to this list and while it's a great overshirt, it's selling feature is a CE triple A safety rating more so than airflow.
The Tracer Air 2 is also, to my eye, much more fashionable than armored base layers with ventilation (think Knox Urbane Pro MKII, REV'IT! Proteus).
REV'IT! Tracer Air 2 Functionality – Off the Bike
Unless I'm riding all day, I typically find myself removing my jacket when I take a break or reach a destination – often switching into something more comfortable if I'm walking around or hanging out with friends. Perhaps the best thing that can be said of the Tracer Air 2 is that it eliminates the need for such wardrobe changes.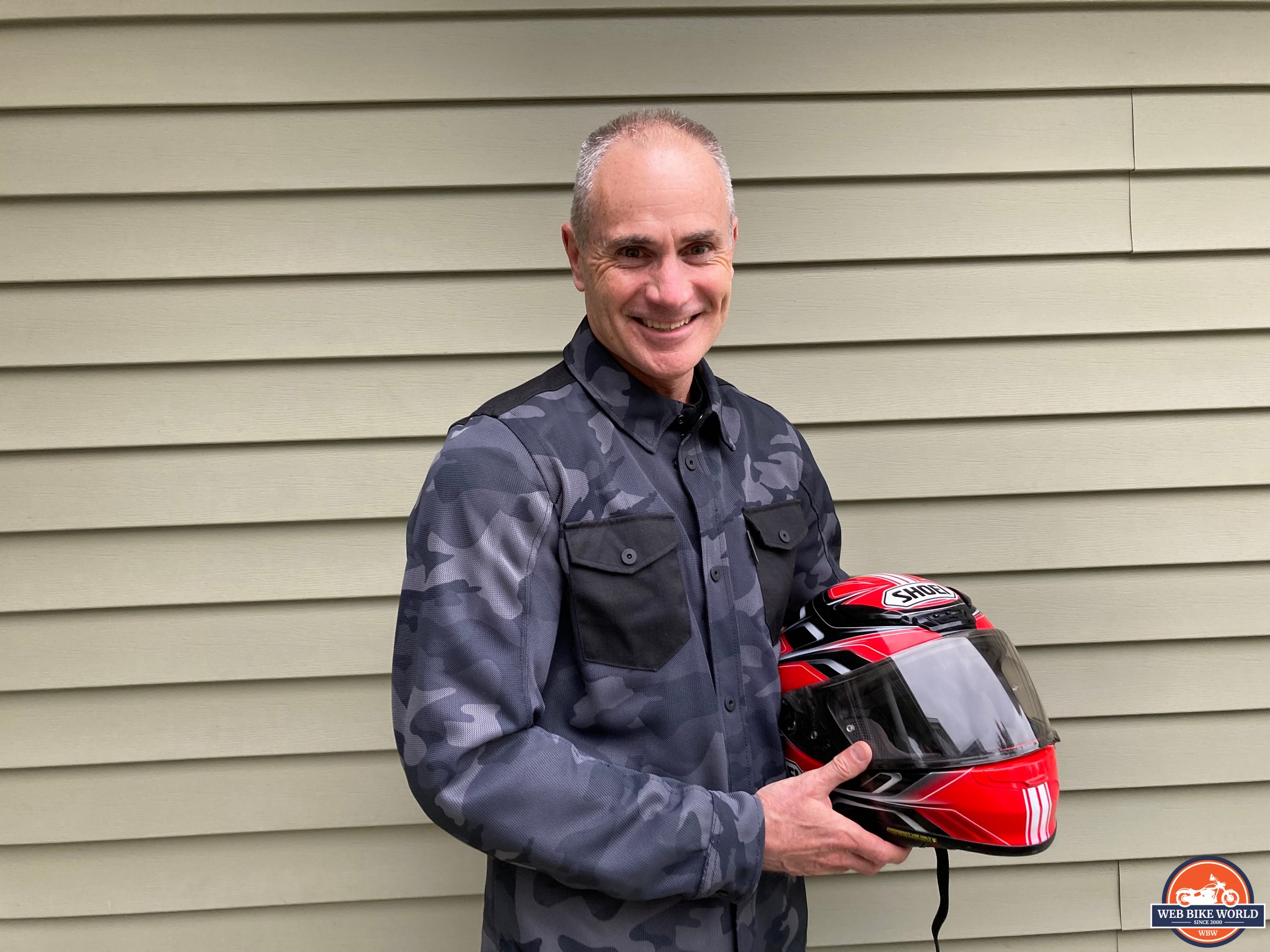 No need to pack a second jacket for those times when you're off the bike; the Tracer Air 2 transitions seamlessly into a fashion garment you'll want to wear
This overshirt genuinely looks and feels like "regular" fashion ware. In fact, depending on the color you opt for, you might find yourself on the receiving end of comments like "sick jacket, dude". I tested the dark camo grey and even my teenage stepkids thought it looked cool.
The light weight and the cut of the shirt make it very easy to live with off the bike. I found myself reaching for the Tracer Air 2 even when I wasn't riding – the extremely slimline SeeSmart armor helps considerably in this regard; I could have removed it if I wasn't planning to ride, but I didn't even notice it so there was no need.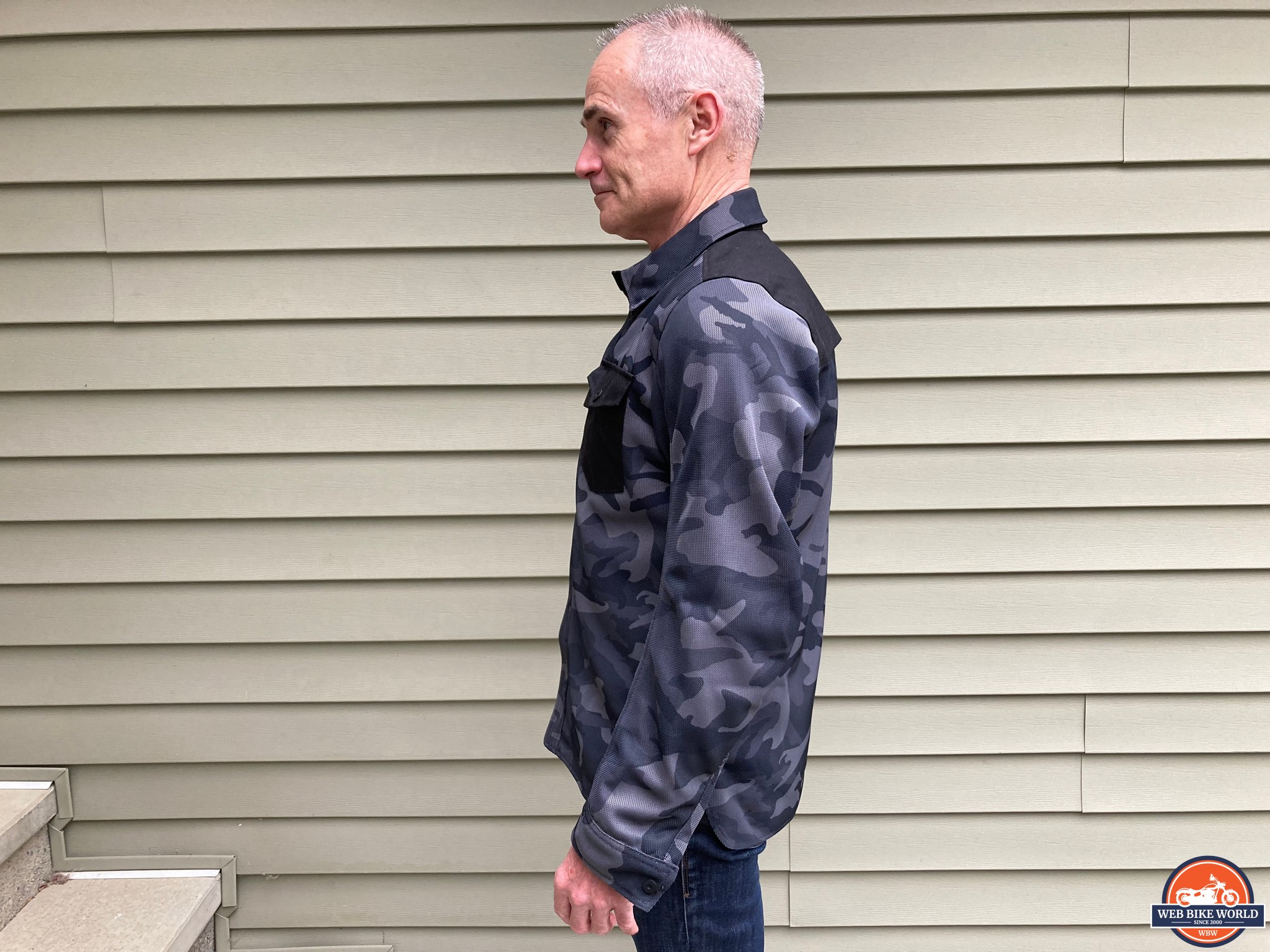 The Tracer Air 2 has a slim silhouette even with the armor in
Final Thoughts
A ventilated overshirt is not going to be your first piece of motorcycle gear, so you have to adopt a "right tool for the right job" mindset in thinking about the need to add one to your kit. As noted above, it fills a niche, especially in hot weather when a regular jacket, even a ventilated one, is too heavy and/or too hot.
For my money, the Tracer Air 2 is something unique; unlike regular (or less well ventilated) overshirts, it really does flow a ton of air. And it does this without looking overtly technical. Kudos to REV'IT! in this regard; they have crafted something that is purpose-built to work under a very specific set of circumstances. For me, those circumstances would be Spring/Summer riding when the temperature climbs above 70 degrees Fahrenheit and I'm staying relatively close to home.
The lack of storage and more robust protection mean this won't be a viable long-distance riding option. For short commutes or quick runs to the coffee shop in hot weather, though, it can't be beat.
Pros
Stealth look – genuinely lifecycle focused
Aesthetics is a personal thing, but I think the Tracer Air 2 is cool-looking
Very comfortable, on or off the bike
Build quality is very good
Exceptional ventilation
Cons
Only CE Level 1 Armor in elbows and shoulders
No back protector
Specs
Manufacturer: REV'IT!
Price: $299.99 (when tested)
Made in: Vietnam
Colors: Black, Brown, Camo Dark Grey
Sizes: S-3XL
Review Period: May 1 – June 16
Important Links / Where to Buy